AQUIOS CL
O primeiro citômetro de fluxo load-and-go (carregue e saia) verdadeiro... com uma pequena área de superfície
O citômetro de fluxo AQUIOSTM CL da Beckman Coulter é o primeiro e único sistema "Load & Go" verdadeiro disponível para laboratórios clínicos atualmente e representa um avanço real e significativo na citometria de fluxo. E ocupa menos espaço em seu laboratório.
Os sistemas modulares de citometria de fluxo ocupam até 3 a 3,5 metros (10 a 12 pés) de espaço de bancada, com seus módulos separados para preparação de amostras, carregamento de amostras e análise. A adição de mais espaço para bancadas e módulos vem acompanhada por maiores custos.
O citômetro de fluxo Aquios CL Load & Go é um sistema totalmente integrado alojado em uma unidade compacta de 82 cm (32 polegadas) de largura. Incluindo o seu computador integral com tela sensível ao toque, a área de superfície do Aquios não é maior do que 1,5 metros (60 polegadas), ou menor, se você colocar o computador sobre a unidade principal.
AQUIOS CL Flow Cytometer Features
Veja o que a simplicidade do load-and-go verdadeiro pode trazer para o seu laboratório
Apresentamos o novo AQUIOS CL com um módulo integrado de preparação de amostras, monitoramento automático de reagentes e leitura de códigos de barras, carregamento contínuo com processamento de amostras de pipeline, análise de dados, conectividade bidirecional ao LIS e QC automatizado.
O caminho rápido para resultados de testes críticos
O que significaria se seu laboratório pudesse encurtar os tempos de resposta e minimizar o potencial de erro na análise de subconjuntos de linfócitos de rotina? Com o AQUIOS CL, agora você tem a resposta - um verdadeiro citômetro load-and-go para laboratórios clínicos.
20 + 25 = Velocidade e eficiência load-and-go
20 minutos para o primeiro resultado após o carregamento da amostra (medida com Tetra-1 ou Tetra-2 +)
25 resultados por hora depois disso para uma placa de até 96 poços completa (medida com Tetra Combo)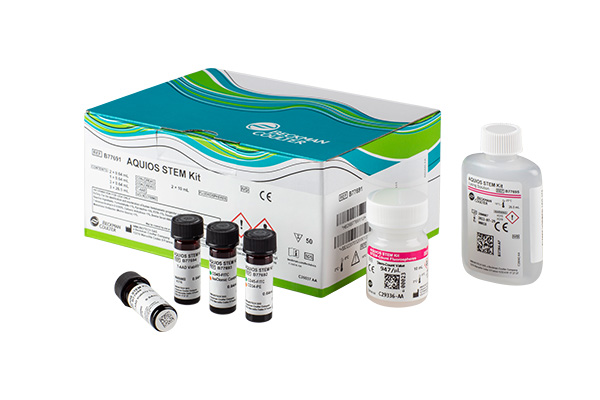 The AQUIOS STEM System is the evolution of the gold standard. The automation and traceability features of the AQUIOS CL provides the option to adapt panels to sample types while staying IVD compliant and remaining ease of use.
Rápido, eficiente e sem manipulação
Preparação de amostras inteiramente
integrada Monitoramento automático de reagentes e capacidade de leitura de códigos de barras
Configuração automatizada do sistema
Controle de qualidade automatizado
Conectividade com LIS completa
Mais compacto do que os sistemas tradicionais de fluxo modular
NOT ALL PRODUCTS ARE AVAILABLE IN ALL COUNTRIES.
PRODUCT AVAILABILITY AND REGULATORY STATUS DEPENDS ON COUNTRY REGISTRATION PER APPLICABLE REGULATIONS. To check if the product is available in your country, please contact your local sales representative or create a request.
AQUIOS CL Workflow