RNAdvance Tissue Performance and Data
Agencourt RNAdvance Tissue
Using patented SPRI (Solid Phase Reversible Immobilization) technology, the RNAdvance Tissue kit can extract total RNA from a wide variety of tissues without the hazards and waste removal issues of organic solvents or the time- and labor-consuming steps of vacuum filtration and centrifugation procedures. For most tissues, this extraction process produces higher recovery of total RNA than traditional column-based approaches.
Compatible with downstream gene expression analysis techniques:
Extraction and purification of high-quality RNA from many tissue types
Efficient removal of genomic DNA and other contaminants
Superior Recovery of RNA from a Variety of Tissue Types Without Sacrificing Purity
RNA was extracted from 10 mg of brain, liver, lung, kidney or tail tissues using the RNAdvance Tissue and other commercially available kits.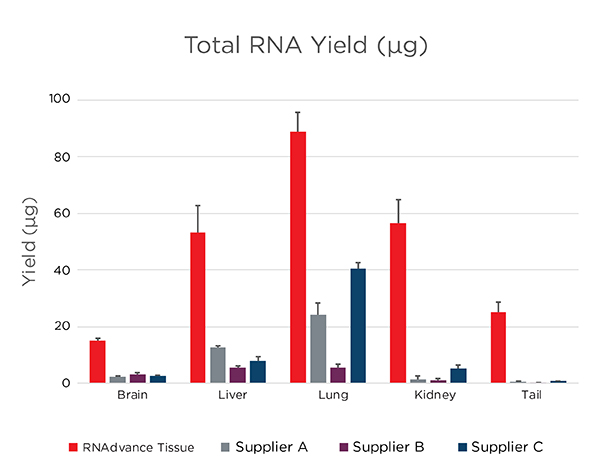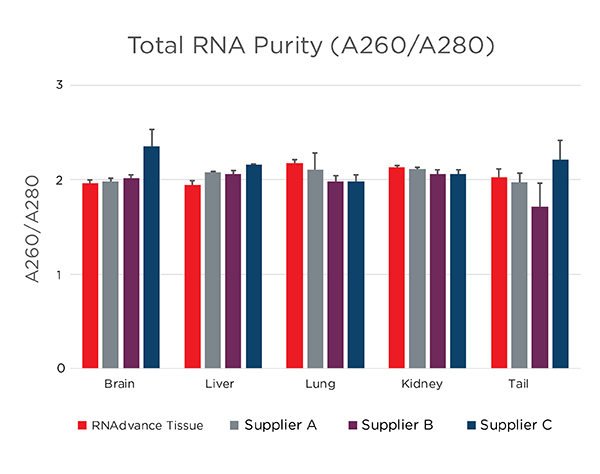 (Left) RNA yield was quantified using the NanoDrop (Thermo Fisher Scientific). The RNAdvance Tissue kit recovered higher amounts of RNA from the five different tissue types used than the other commercially available kits.
(Right) Samples were assessed for purity using the NanoDrop (Thermo Fisher Scientific). For all types of tissue, RNAdvance Tissue kit purified RNA with A260/280 ratios within satisfactory ratios.
RNAdvance Tissue Workflow Steps

Lyse tissue in Lysis Buffer and proteinase K
Bind RNA to magnetic beads
Separate magnetic beads from contaminants
Wash magnetic beads with Wash Buffer and 70% ethanol to remove contaminants
Treat samples with DNase I
Rebind RNA to magnetic beads with wash buffer
Wash magnetic beads with 70% ethanol to remove contaminants
Elute RNA from magnetic beads
Transfer to new plate
Automation vs. Manual Timing
Estimated hands-on time and total time in hours required to perform 48 and 96 RNAdvance Tissue RNA extractions. Extractions can be performed either manually or automated on a Biomek Workstation. The table represents automation times performed on a Biomek i5 Multichannel. Difference in time between manual and automation is indicated. NR=Not Recommended.
RNAdvance Tissue
Manual
Automated
Batch Size
8
Hands-on Time
1.00
0.25
Total Time
2.50
2.50
24
Hands-on Time
1.50
0.25
Total Time
3.00
2.50

96

No DNAse

Treatment

Hands-on Time
NR
0.25
Total Time
NR
2.00
96
Hands-on Time
NR
0.25
Total Time
NR
2.50
Products to Extract RNA from Tissue
| PART # | NAME | PREPS |
| --- | --- | --- |
| A32645 | RNAdvance Tissue Kit | 50 |
| A32649 | RNAdvance Tissue Kit | 96 |
| A32646 | RNAdvance Tissue Kit | 384 |
Not intended or validated for use in the diagnosis of disease or other conditions.
Beckman Coulter, the stylized logo, and the Beckman Coulter product and service marks mentioned herein are trademarks or registered trademarks of Beckman Coulter, Inc. in the United States and other countries. All other trademarks are the property of their respective owners.